RADOVAN FURMANN: Many businesses want to be "Industry 4.0". However, this is impossible without taking some basic steps
When the term Digital Enterprise began to be used in Žilina years ago, many production plants, in an effort to use modern tools and technologies, reached gradually, perhaps sometimes even a little bit  awkwardly, for hitherto little-known solutions that opened the door to higher process efficiency. Experts from our company helped them pave their way from the real world into the digital realm. Today, this digital world is considered the basic pillar of Industry 4.0 – a concept that resonates strongly in the industrial world and brings with it a number of unanswered questions. Radovan Furmann, head of the Digital Enterprise division in our company, says that the importance of the digital and virtual twins of real plants is becoming more and more established. However, they cannot be created from day to day. According to him, Industry 4.0 is not a static state that a plant can get into with a single jump. It is a journey that requires many small, gradual steps … It is important not to stand still. 
"When we started dealing with the tools and solutions of the Digital Enterprise in 2004 and presented them to industrial plants in Slovakia, we were "pioneers" at that time. Thanks to cooperation with companies that focused and still care about development, modernization, innovation and higher efficiency using new technologies, we were able to further develop our experience and build a Digital Enterprise as a set of solutions that cover several areas: from 3D scanning, digitization, through conceptual design, detailed design, ergonomics to dynamic stimulation," says Furmann. "To put it simply, if a real business has its own digital model, any planned changes can be made faster and more cost-effectively. And it does not necessarily have to be an existing plant, we also used Digital Enterprise tools when building new plants or production halls on greenfield sites," he adds. 
According to him, there are areas where the Digital Enterprise has not changed over the years, but for example, 3D scanning and digitization are now perceived only as a basic step in order to be able to continue working with the acquired data. Today, we can define the fields of a Digital Enterprise as two key areas: designing production and logistics systems, and monitoring production and logistics systems.
"In addition, we are increasingly trying to move from services to products. If years ago we helped our partner integrate a new product into existing production lines, today they can get an actual simulation tool, instead of just the results of our simulation. We want to enable them to optimize their own processes," explains Furmann. On the question of whether they are not destroying their own business, he answers that they are responding to current trends and requirements from industrial companies employing expert and technologically skilled professionals who are able to use the advanced Digital Enterprise tools on their own. It is no longer unusual for plants belonging to multinational corporations to have their own teams of specialists in digitization or simulation, as this is a necessity if the plant wants to remain competitive in today's fast and turbulent times. 
One of the products from the Asseco CEIT workshop that can help companies is, for example, the Twiserion Design Manager, an interactive system that is an excellent helper in planning workshops. This system can change or create new production and logistics concepts in production halls and immediately see their impact. Or CERAA, a simple tool for assessing ergonomic risks, which uses augmented reality and enables a quick evaluation of workplaces even for non-ergonomists.
"Putting these sophisticated tools in the hands of businesses doesn't mean ending our role. Quite the opposite. We want to be their partners in technology. Our task is to be able to be not one, but two or three steps ahead and to define ever newer topics which enable production plants to produce more and more efficiently and maintain their competitive advantage.  This is, after all, their primary task. To produce efficiently. We want to bring them modern tools that will help them do this," explains Furmann, according to whom plants operating in Slovakia often in cooperation with technological partners come up with innovations which are proof that they themselves are looking for a way to improve processes. "I am very pleased that companies with foreign participation operating in Slovakia are active and can present to their headquarters specific technological solutions or tools with which they want to work. Moreover, they are given a free hand, because these solutions are top-notch."
When talking about the use of modern tools for designing production or logistics systems, the division head points out that we are building on good foundations from the past. "In Slovakia, and even in Czechoslovakia, we had a very strong presence of high-quality design offices and technology designers. Best practices, which were at a high level today, are complemented by new technologies. When I mention design, for example, it actually consists of collecting information, processing it, creating analyses, finding the best design and verifying it. It is an old well-known methodological procedure, but new technological possibilities give it a completely different dimension and added value, "says Radovan Furmann. 
The leader in the use of these tools today is mainly the automotive industry and also the mechanical and electrical engineering industry, but they do not have to be exclusively large companies. Small and medium-sized companies often use Digital Enterprise solutions. Their interest was also influenced by intense discussions and growing voices about revolutionary changes in the industry known as Industry 4.0. "I don't think it's a name for a state or a destination station to get to. This is not a status that businesses can acquire. We often come across someone saying, "We want to be Industry 4.0". But for example, they use 2D documentation and are not even considering digitization. It is always necessary to start with the basic steps, even small ones. And then move on. It cannot happen in a month or two," explains R. Furmann, admitting that the concept of Industry 4.0, which is strongly heard from the industrial environment today, also raises many questions. Everyone is looking for information; they want to find their own way around. "Asseco CEIT is building its own comprehensive concept of smart factories, which is constantly evolving, supplemented by still newer processes, technologies and innovations. Therefore, we have been dealing with what is now called Industry 4.0 intensively for several years now, including through the tools of the Digital Enterprise," he adds. 
The number of completed projects in many plants in Slovakia speaks for itself. The biggest cooperation was during the construction of a mechanical machining plant in Tatravagonka or the construction of a new high-pressure foundry for Nemak Slovakia in Žiar nad Hronom. "We worked with Nemak in the past, in scanning, process visualization and simulations. Recently, they managed to build a modern hall, and thanks to the tools of the Digital Enterprise, they quickly moved from idea to reality. We used a parametric simulation model, which is suitable whenever the input information is continuously supplemented and changed. More than forty variants were re-simulated in order to eliminate inefficiencies in the planning process in the final phase, "says Furmann. 
As he adds, creating the layout of the new hall is not a problem today. "But debugging processes in real operation is not only laborious, but also very expensive. In addition, some collisions could go undetected, causing problems later." However, using a parametric simulation system, it is possible to identify and eliminate deficiencies during planning. Subsequent visualization then allows the last "check" in virtual reality. It will also often reveal hidden risks.  "And many companies may not be aware of this. That modern technologies and advanced approaches give us a huge advantage. That investing in a digital business can save you a lot of costs, time and energy in the real world," he concludes.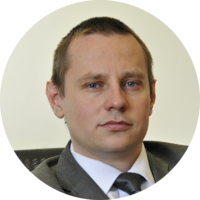 Radovan Furmann, Director of the Digital Enterprise Division of Asseco CEIT
He has been designing production and logistics systems with the support of digital enterprise tools for more than fifteen years. At  Asseco CEIT, he manages many large-scale projects using the most advanced technologies for digital and virtual enterprises. He also works on Industry 4.0 and its deployment in industrial companies.