Latest state-of-the-art logistics robots from a Slovak manufacturer deployed in ŠKODA AUTO
Smart control, a direct connection to production, advanced spatial orientation thanks to the synchronization of real and virtual worlds. Such features characterize the most modern logistics robots from the portfolio of the Slovak technology company Asseco CEIT. These state-of-the-art robots are currently deployed by the largest Czech car manufacturer in its plants. Unattended robotic AGVs no longer need magnetic tape on the floor of an industrial hall. ŠKODA AUTO, a leader in introducing Industry 4.0 innovations on the Czech market, has implemented more than 130 of these modern robots in its logistics processes.
The new logistics AGVs utilize an advanced level of control and navigation. They scan the environment and static objects in the hall, with the paths represented virtually in the software environment. The system imports the floor layout of the deployment site and synchronizes the real and virtual worlds. Magnetic tape is no longer needed. Navigation and control have moved even further into the virtual world and represent another important step in the internal logistics innovations of the largest Czech carmaker. "We are constantly striving to innovate, optimize transport processes and streamline the material flow via increasingly advanced automation," says David Strnad, Head of Logistics at ŠKODA AUTO. As he added, the transition to a new type of navigation no longer requires making changes to the floor and thus also significantly increases flexibility in modifying the paths.
"Robotic AGVs are directly connected to the individual workplaces in the hall and immediately adapt to the current situation, thus increasing productivity. The material is brought to the assembly line exactly at the time when it is needed," explains Peter Mačuš, Asseco CEIT Technical Director. As he says, the system assesses the traffic conditions and transmits information important for the decision-making and management of individual parts of the logistics process and logistics resources. At the same time, it collects information for later analysis and logistics optimization. The monitoring enables a clear display of the status and position of individual logistics resources. In addition, logistics process managers can influence individual elements in real time.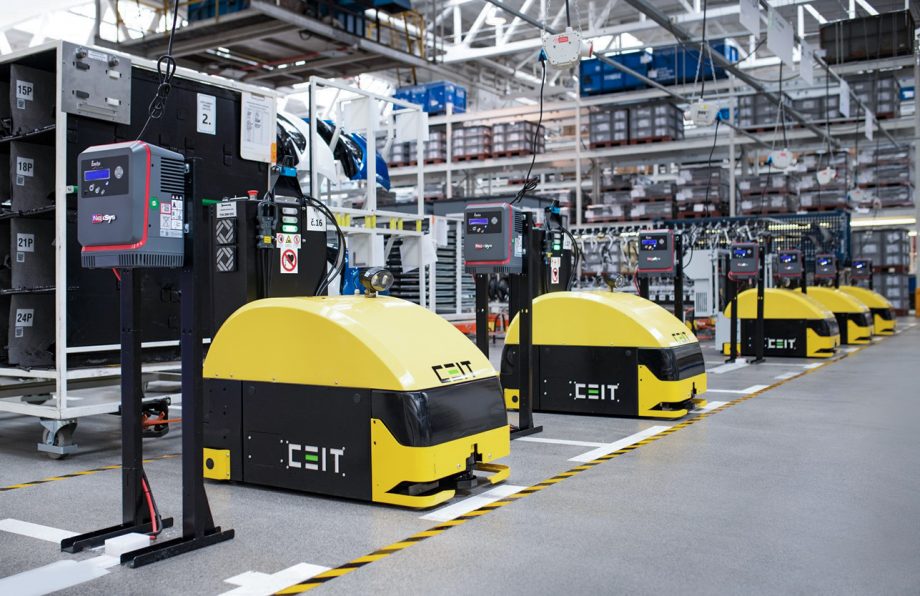 With this project, ŠKODA AUTO confirmed its long-term cooperation with Asseco CEIT in the automation of internal logistics. The first AGV, including automatic peripherals, started moving around the car's assembly hall in September 2011. Since then, the company has delivered dozens of robotic trucks with all sorts of special equipment to the plant. These devices and tools increase logistics productivity, bring to the halls a higher level of automation, reliability, flexibility and safety in particular when handling cargo. The current fleet also includes a new type of AGV set with a load capacity of up to six tons. The logistics system is complemented by automatic peripherals, which are used to transport and transship cargo.